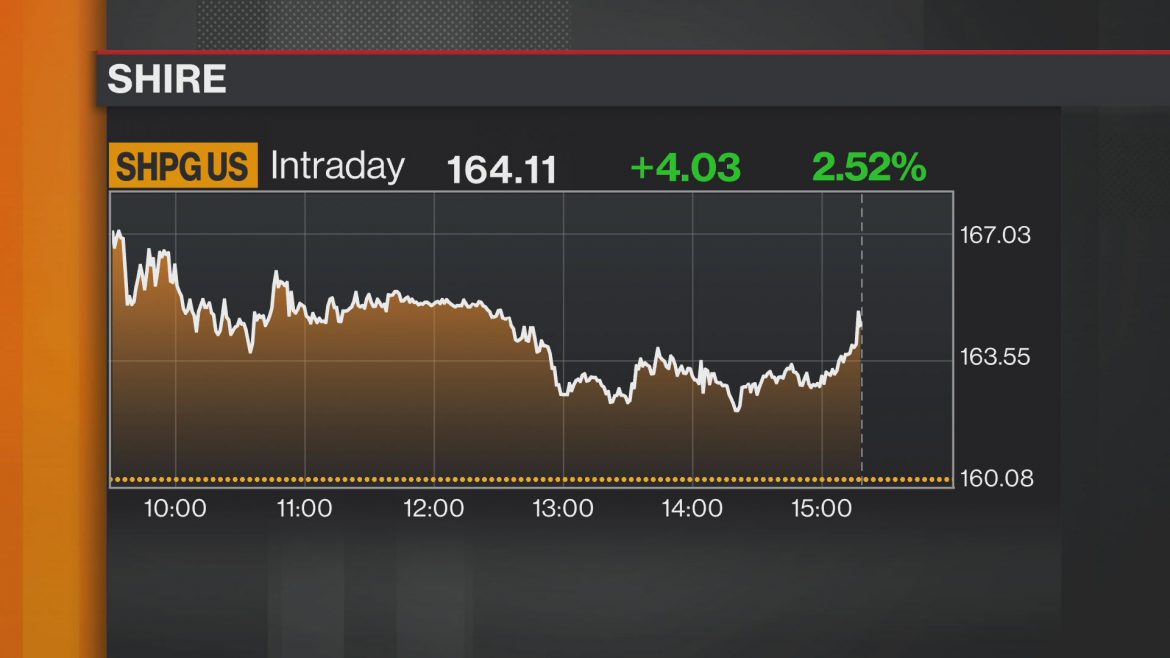 Shire Shares Gain After Deal With Takeda Nears Completion
Takeda Pharmaceutical Co. is nearing a preliminary agreement to acquire Shire Plc after the Japanese drugmaker sweetened its roughly $60 billion bid for the biotechnology company, according to people with knowledge of the matter.
Shire's board "is considering its position" on a new bid, the company said in a statement Tuesday after Bloomberg News reported that the companies were nearing a preliminary agreement that could be announced as soon as Tuesday. Shares gained in late trading in New York after Reuters reported that the companies plan to announce a deal on Wednesday.
Shire says Takeda has come up with a new buyout offer as reports spotlight a looming handshake deal
Shares of Shire are on the march back north this morn­ing fol­low­ing a re­port from Bloomberg that Takeda is within reach of a pre­lim­i­nary buy­out deal, which could come as early as today. And that piece was fol­lowed by a state­ment from Shire con­firm­ing that Takeda re­vised its offer for the com­pany today — mark­ing its 5th pitch.
"The Board an­nounces that it has re­ceived a re­vised pro­posal from Takeda re­gard­ing a pos­si­ble offer for the Com­pany on 24 April 2018," Shire stated. "The Board is con­sid­er­ing its po­si­tion. There can be no cer­tainty that any firm offer for the Com­pany will be made nor as to the terms on which any firm offer might be made."
Biosimilar frontrunner Celltrion to lose first-to-market advantage for Truxima in the US
Celltrion, the South Korean biopharma company responsible for the launch of Truxima, the first-ever Rituxan biosimilar for oncology, faced a significant setback recently. Following Truxima's approval by the European Medicines Agency (EMA) in February 2017, Celltrion also submitted for regulatory approval in the US, hoping to gain first-to-market advantage over rival Sandoz's rituximab biosimilar Rixathon.
Rixathon was approved by the EMA in June 2017 and is currently under FDA review, with a Prescription Drug User Fee Act (PDUFA) date of July 12, 2018. On April 5, Celltrion received a complete response letter from the FDA rejecting the biologics license applications (BLAs) for Truxima, and also Celltrion's Herceptin biosimilar, partially due to poor aseptic practices at Celltrion's manufacturing plant in Incheon, South Korea. This negative decision is likely to push Truxima's launch back to Q4 2018 at the earliest, from the original anticipated launch date of Q2 2018, creating an opportunity for Sandoz to take the lead with Rixathon in the US.
Science News - the latest news from the scientific community
Previous Post